CDs | Records | Tapes | Comics | Zines
Order & Shipping Info | About Us | Sell | Return Policy | Contact | Events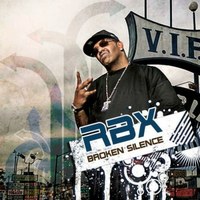 RBX
Broken Silence
New CD: $16
Label: Technicali/Phantom
2007
-Tracks-
1. Broken Silence
2. Overdue
3. Streetz
4. Echoes Of My Mind
5. Bounce To This
6. Free
7. Never Again
8. The Station
9. Sing
10. Look Into The Eyes
11. Sunday
12. Stop That
13. She's Sexy
14. Sunshine
15. Fiya
16. The Get Down
Produced by Snoop Dogg
In preparing to shatter the framework with his forthcoming solo album
"Broken Silence," RBX brings his vocal artillery with steady ammunition
of impressive beats and guest spots. He has been engulfed in the studio
surrounded by talent, with contributions from the hands of Technicali's
own LD, DJ Rhettmatic of the World Famous Beat Junkies, and even his
longtime partner in crime, Snoop Dogg. But it is in RBX' vocal presence
and delivery that continues to command attention, and promises to have
fans in shell toes and chucks in celebration. From the opening to the
closing track of "Broken Silence," RBX' relentless swagger proves
irresistible. His deep rasp and asthmatic drawl strangleholds each
track into submission, dictating the direction of subject manner into
musical massacre. With sixteen songs of unadulterated heat, RBX
unleashes a tirade of emotions, experiences, and philosophies into a
testament of personal triumph.